Hey guys, figured I would extend the invite here since we all love football. We should have the same amount of fun playing FF as we do playing Madden together.
My fantasy football league has 6 teams open right now, love for you guys to get in on it. Heres all the info you guys need:
-$50 entry fee (Entry fee deadline is one week before the draft date)

-I'll be utilizing www.leaguesafe.com to ensure that I'm not handling the payments directly and I haven't got any direct knowledge of anyones personal information.
-Head to Head weekly scoring
-12 team, IDP (w/ no Team Defenses)| NON-PPR
-There will be no "can't cut" list, but drops and pick-ups will be watched closely approaching playoffs.
-6 Playoff teams
- Draft date is not determined. Will definitely be held sometime over the final two weekends of August, or the 1st or 2nd of September. There is a poll up right now on our ESPN Main page to determine the date.
Roster:
Offense: 1 QB | 2 RB | 2 WR | 1 TE | 1 Flex (RB/WR/TE), 1 Kicker
Defense: 3 LB | 2 DL | 3 DB | 1 DP (Any position)
8 Bench Spots, NO Injured Reserve
(You're guy gets injured, either ride with him on roster or chance releasing)
SCORING: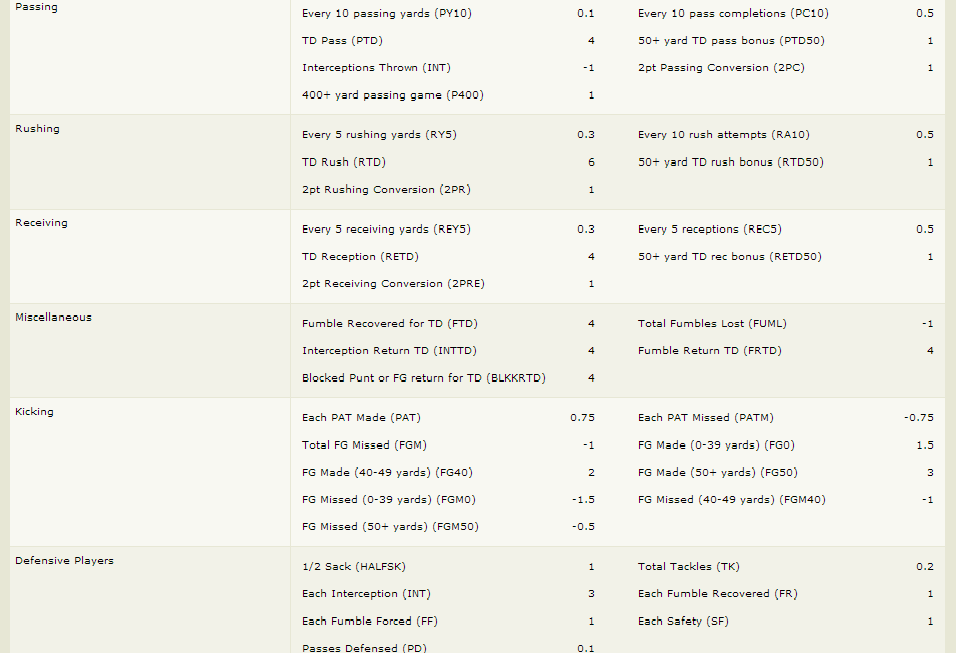 The scoring system looks weird, but I assure you it's the best I've ever used for a non-PPR league. My fiancees father has been playing FF since the 70's and I joined their league 3 years ago. It is easily one of the most balanced scoring systems among all the positions I've seen.
If you're interested in joining, we have 6 slots left available right now. Just let me know, all I need is your email right now.